If ASHRAE BC's annual golf tournament on May 30th was any indication, it is never a bad time to get out on the course for a friendly round of golf. The weather also seemed to make little difference to everyone involved, as sunshine, rain… or monsoon-like elements were braved nonetheless by ASHRAE's enthusiastic participants, some even donning shorts during the 18-hole Texas Scramble.
I awoke, before my alarm for the day had even gone off, to the cacophonous sound of thunder rolling through Lulu Island. The weather forecast leading up to the event up to 3 weeks prior promised glorious sunshine, but instead I found myself thankful for something different entirely: that I had purchased a rainproof tent – you know – just in case. The Swan-e-Set golf course is a marvellous course, and inclement weather shouldn't make golfers think twice about seizing the opportunity to walk these fairways.
CANNEPP stationed itself at hole number 4 as rain and mist began to blanket Pitt Meadows. What started as a humid morning began to cool down, but golfers' swings stayed fresh and loose. Good thing, too – they would need their "A" game for our prize competition.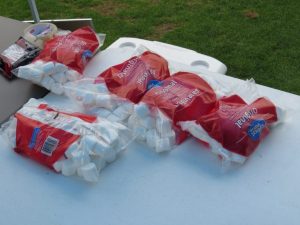 The marshmallow long-drive. Each group member must tee-off a marshmallow at the box. There are numerous factors involved in determining success in the marshmallow long-drive. A driver is the natural choice, but too much power could spell disaster for the bite-sized candy, creating a forceful explosion on impact. The stakes are high.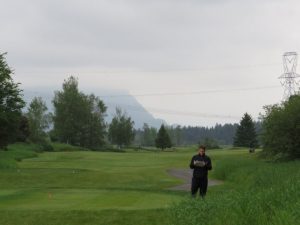 The competition can be fierce, hence our reliance on Patrick to brave the elements on the far side of the next tee box with his trusty tape-measurer, and to exercise fair and balanced judgement.
If you were to ask me, this drive sounds like a playoff hole swing headed straight for the fairway.
The long-drive winner was presented with a $100.00 gift card to Best Buy, as well as a CANNEPP cooler bag for when summer decides to finally stay for good.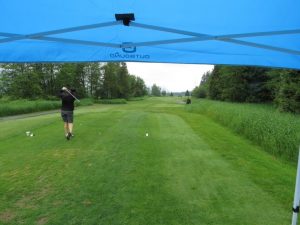 At the end of the day, despite the downpour, there were small windows of mercy from mother nature that provided a pristine view down the fairway that stretched out on the long par 4, only to vanish behind a dog leg filled with rustling trees. You may find something different from marshmallows on the tee-box when you join us next time, but you can bet with certainty that CANNEPP will be waiting to greet you on the tee-box next year.
Until then, best of luck out there on the course.