A good reputation precedes a business and it's partners. Cannepp has achieved this throughout its growth not only by supplying boilers and boiler equipment of the highest quality, but working with every party involved to professionally install, integrate, and inform. This ensures that the customer gets the best product while also enjoying the benefits that the investment promises.
Such is the case when examining the project completed by Cannepp for Saputo Dairy Products in Abbotsford, BC. Their industrial plant upgraded to a Cleaver Brooks CBEX 800hp steam boiler with a 150 psi design pressure, and the results that stemmed from increased efficiency and reliability were immediately quantifiable.
Natural gas supplier FortisBC "owns and operates approximately 48,200 kilometres of natural gas transmission and distribution pipelines and approximately 7,200 kilometres of transmission and distribution power lines." Along with this comes a responsibility to be a leader; to provide incentive to increase efficiency and meet climate action goals, hence the creation of the Efficiency in Action Awards. Their 2017 awards luncheon was held on May 4th at the Pan Pacific in Vancouver, at which Saputo received recognition for its outstanding performance in both meeting and surpassing these goals.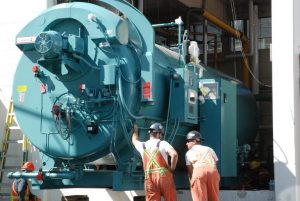 FortisBC writes: "Saputo is the largest cheese manufacturer and the leading fluid milk and cream processor in Canada. After an energy audit showed that replacing a steam boiler at one of its BC facilities could save a significant amount of natural gas, Saputo completed the upgrade with funding from our Industrial Optimization Program. In the first year, the new boiler saved more than 62,000 gigajoules of natural gas – double the projected savings. Better yet, Saputo was able to increase production without increasing natural gas consumption."
The best way to thinking about progress in the boiler industry is when you are able to improve your performance and capability without negatively impacting factors like equipment longevity, emissions targets and operational safety or, better yet, improving upon these factors at the same time. Saputo's facility upgrades and subsequent successes are proof that Cannepp's extensive line of quality products are not only smooth operators, but winners.