An Important Piece to a Large Puzzle
Throughout June's monthly product feature, we have put economizers under the microscope. The most important, encompassing takeaway from these discussions is this: an economizer is one piece of a much larger system. Because of this, a holistic approach is critical when weighing the decision to invest in economizers. Factors such as whether or not the installation would require a stack redesign, or whether a small boiler's efficiency increase would provide a sufficient return-on-investment, are examples of questions that require this approach for answers.
Cannon Boiler Works, the product line upon which we lay our focus today, identifies three crucial variables to help facilitate this decision. They are:
Fuel type
Burning natural gas as opposed to heavier fuels is a question sometimes relative to the size of the boiler, and fuels are selected while citing economical considerations. But latent heat at 970 degrees per pound of water can be absorbed from natural gas that would otherwise be exhausted. So, the fuel being burned is an important question to start with.
Inlet water temperature
The reason inlet water temperature most matters is because it affects how you save energy. What are you using the heated water for? Boilers that use a solid portion of their generated steam for the process – thereby needing larger quantities of make-up water – can harness the latent heat from condensation at the dew point and get the best returns by heating the make-up water. Inlet temperatures will therefore be cooler (ideally 40-100 degrees Fahrenheit). If, say, a deaerator already sufficiently bumps up water temperatures, and there is less cold water to be heated (such as storage tanks), it may be more economical to purchase a non-condensing economizer with carbon steel piping, with inlet temperatures above 130 degrees.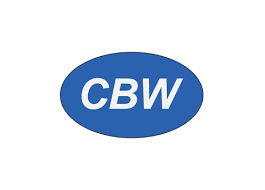 Exhaust back-pressure
Back pressure can be triggered by soot deposits in the exhaust stack. However, the extra work that the fuel has to do to pass through an economizer also creates back-pressure on the boiler, leading to potential issues with the combustion process. Again, the stack may be a part of the system that would not make economic sense to replace when installing an economizer. A good relationship to pay attention to is one between efficiency, safety, and savings. Fins on the heat exchanger tubes in an economizer generally do not exceed six fins per inch. It may need to be less if the back-pressure on the boiler would negatively affect combustion. This proves again that the system, as a whole, needs to be examined to make the right decisions.
Cannon and Cannepp: Practical and Efficient Boiler Room Solutions
Feedwater Heaters
Cannon's feedwater heaters are space-conscious and versatile. They operate on boilers that fire natural gas, propane, or No.2 oil and ranges from 50-3000 horsepower. As typical with Cannon's lineup, its operating pressure is between 15 and 900 psig, and tolerates inlet temperatures between 150 and 300 degrees Fahrenheit. In addition to this, Cannon's lightweight model can be applied to boiler OR non-boiler water streams. This unit was a part of Cannepp's boiler room solution for Saputo Milk & Crown Packaging. The result was improved longevity and reliability for the boiler and a projected fuel savings of 8-10%. Find the link below to find out more about this project, or visit the project gallery on our website.
On-Demand Economizer
Cannon Boiler Works explains that because every other aspect of a boiler room has to be considered to determine if an economizer makes sense to install, "space or operating limitations" as well as constraints due to a customer's existing equipment would sometimes rule them out as a viable option. However, Cannon's On-Demand Economizer is designed only to operate when heat is available, and only when hot water is needed. Moreover, it is "invisible" to boiler exhaust, eliminating the problems associated with increased back-pressure. Built for systems using a natural gas fuel, this unit also works on boiler or non-boiler streams with an inlet temperate range of 32-150 degrees. At a local hospital on Vancouver Island, Cannepp's implementation of this unit allowed for flexibility during cyclical process demands, leading to heightened savings.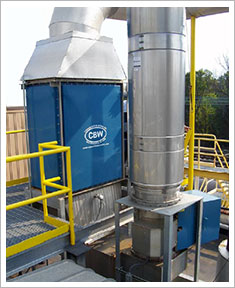 Cannon Boiler Works' On-Demand Economizer
Dual Stage Economizer
The ideal scenario for an economizer is to recover a majority of waste heat to return to the system for various functions. One water stream flowing through the boiler means it is inevitable that some heat will not be recovered. Conversely, adding a second water stream to capture heat is often "not possible because the burner fan cannot overcome any more restriction on the exhaust." Cannon's Dual Stage Economizer heats two water streams while simultaneously limiting back-pressure. Add easy inspection and maintenance to the list, and this model represents the epitome of flexible design. Cannepp's installation of this unit at a regional hospital in the Lower Mainland of British Columbia allowed the system to preheat domestic hot water storage while recovering exhaust energy to the heating system's return water at the same time.
This concludes our feature on Economizers for the month of June. Join us in July when we go in-depth on Biomass boilers!