Last week's post for Skid Packages & Containerized Systems focused on the ClearFire-H and ClearFire-V models, both of which deliver exceptional efficiency and functionality for an array of applications. Our two feature products this week are Cleaver-Brooks' Flexible Watertube Skid Solutions and their Containerized/Skid-Mounted Firetube Boiler Systems, both offered by Cannepp, your expert boiler & service provider.
Cleaver-Brooks offers this description for its Flexible Watertube Skid Solution:
"Looking for a turnkey steam solution? Cleaver-Brooks offers standard and complete steam boiler system skid-mounted packages in gas and propane fuels. The package includes the steam boiler, feed system and blowdown separator with optional chemical feed system and water softener.
One of the greatest benefits gained from opting for a system that incorporates a Cleaver-Brooks Flexible Watertube boiler is versatility. Expert-crafted boiler tubes featuring non-welded attachments are resistant to thermal shock, allowing for seamless operation at a higher Delta-T than conventional boiler tubing. Moreover, steam or hot water applications are available with this skid-mounted system, which is either natural gas or propane-fired using pre-mix burner technology.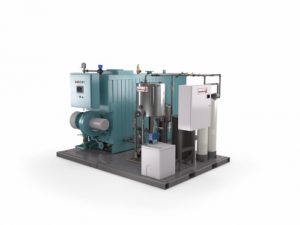 Cleaver-Brooks' Flexible Watertube Skid Solution. With steam and hot water capabilities, this makes for a versatile boiler room solution.
With output capabilities ranging from 2000-6000 MBTU/hr and a design allowing for up to 500 psig, 180 degree hydronic comfort heating, and process water up to 410 degrees, this system is designed for high performance while maintaining a relatively small footprint. Add low NOx and CO emissions and packaging that allows for swift hook-up, and the Flexible Watertube Skid Solution checks all the boxes for a comprehensive solution.
Another great option available to our customers requiring high-pressure steam are Containerized Firetube Systems. The first and most obvious reason to elect for these custom containerized boiler packages is that the manufacturing for the entire project (boiler, burner + control, skid system) comes from a single source. This saves you time on cost and installation.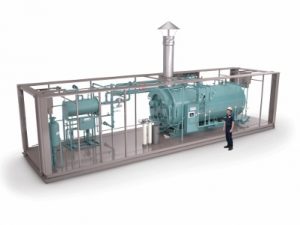 A Cleaver-Brooks Containerized Firetube System can eliminate the headaches associated with installation.
Additionally, the system is pre-piped and set for start-up, and tested at the factory by Cleaver-Brooks before it is shipped. Three-dimensional modelling ensures that all the most intricate project details are closely examined to engineer a expertly-crafted solution that meets a customer's unique requirements. These systems are an ideal fit when meeting demands for process steam, building heat, sterilization, humidification, and more.
Cannepp has a solid resume of projects that seize the advantages of these containerized systems, and we will examine these closer in next week's post. We will also explore FloFab's line of integrated pump systems.