Last week, we dug into Watertube & Firetube Packaged Systems manufactured by Cleaver-Brooks and available through Cannepp. This week's post for our feature of Skid Packages & Containerized Systems will review some of the projects Cannepp has added to its resume over the years, standing out as a leader among companies that design and build packaged boiler houses for many different applications and operation sizes. For more media on these projects, feel free to visit our Project Gallery, call, or email us to get in touch!
Diavik Waste Oil Plant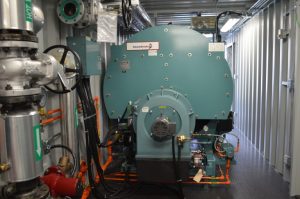 Diavik's containerized waste-oil plant featuring a Cleaver-Brooks ICB.
Waste oil collected from the power generators, trucks and other machinery must be carefully handled to prevent adverse environmental impact and to ensure work place safety. For locations such as The Diavik Diamond Mine located in the North Slave Region of the Northwest Territories the logistics of this activity are time consuming and costly. As a long time equipment and service provider Diavik looked to Cannepp to design and build a shippable water/glycol heating plant to safely burn waste oil and to provide heat for the mine. At the heart of this plant is a 2-MW fire tube boiler manufactured by Cleaver Brooks.
Yukon Zinc Mine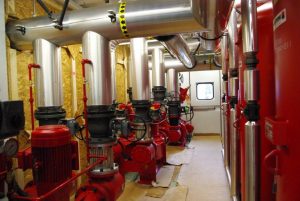 The need for a shippable oil fired water/glycol heating plant to "top off" the power generator heat recovery system was the perfect solution for adding to the development of this mine site. The 6MW plant was designed as two modules: one containing two 300 HP Cleaver Brooks CBLE Firetube Boilers and one containing pumps, expansion tank, air compressor and motor control center. The ability to design and build plants like this in a controlled manufacturing environment and ship them to a remote location for ease of assembly and trouble free operation adds both quality and value to projects like this
Kitimat Modernization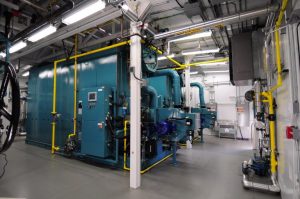 The requirement for two 10MW steam plants for Rio Tinto Alcan in Kitimat turned into a unique and exciting design build opportunity for Cannepp. The two "twin" plants were engineered and constructed at our manufacturing facility in Delta BC. Once complete, shop tested and accepted the plants were partially disassembled into ten shippable modules (ten truck loads!) and delivered to site where they were reassembled in less than two weeks ready for connection to plant utilities and infrastructure.
Saputo Milk & Crown Packaging
Although this is not a completely containerized boiler system, we feel it is important to include as it provides insight into Cannepp's ability to design, build, and maintain strong, comprehensive, multi-component boiler room solutions, as well as relationships with our customers. A link can be found here detailing how Saputo's upgrades won them an efficiency award!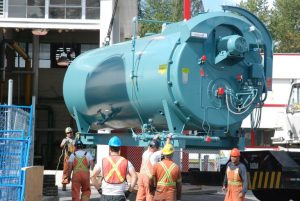 Ageing boiler plants create challenges for established manufacturers when costly issues involving safety, efficiency and maintenance arise. A major overhaul on a fifty year old steam boiler that generates 30,000 plus pounds of steam per hour will likely involve dealing with environmental hazards such as asbestos, lead paint and mold before the repair work can even proceed. Add to that, major pressure vessel repairs, casing repairs and technology upgrades to the existing burner and controls and these costs can easily exceed that of a new firetube boiler with state of the art PLC based combustion and feed water controls. The addition of an economizer to capture the waste boiler exhaust to preheat boiler feed water results in a system upgrade that is far more efficient.
Cannepp designed and installed a new 24,000 pound per hour steam plant for Saputo Milk and a 27,600 pound per hour steam plant for Crown Packaging. Both of these plants have demonstrated a consistent 8-10 % reduction in fuel cost while benefiting from improved reliability, serviceability and safety.
Working with Cannepp ensures that you receive top tier products that are built to last and service that is second to none. Discover how we can help you reach custom solutions unique to your business. Get in touch today!