In September, we featured Water Heaters & Electric Boilers and the role they can play in finding safe, effective and reliable solutions in the boiler room. This month, we will profile Burners & Controls for a wide range of applications, all of which are offered and installed by Cannepp, your expert boiler and service provider from Delta, BC.
Commercial Burners
Cleaver-Brooks "manufactures burners for any commercial application, industry, or need." Moreover, their ProFire products are "designed for maximum efficiency, using either gas or oil, and are available in low or ultra-low emissions."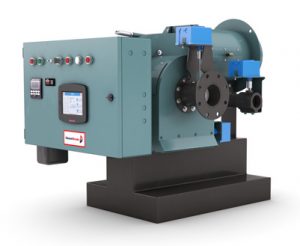 1.3 to 16.8 MMBTU input range. 31 to 400 HP. Gas, oil, and combination. Available to <30 ppm NOx. Forced draft burner.
An aerodynamic air-damper design increased accuracy in air-to-fuel settings, leading to a heightened combustion efficiency. Available in low NOx versions with a 5:1 turndown, the standard V-Series uses advanced technology, boasting a 10:1 turndown ratio. The standard V-Series offers natural gas, propane gas, pressure atomized #2 oil and combination gas/oil fuel options. Design features also include a "top or rear-mount panel option, induced FGR (Flue Gas Re-circulation), an FGR modulating valve, and No. 2 oil capability for backup fuel." The ProFire-V Burner is applicable in firetube, watertube, firebox and cast iron boilers.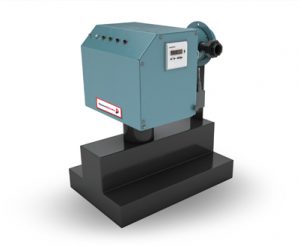 0.4 to 2.5 MMBTU input range. 9 to 60 HP. Easy setup and commissioning. Quiet operation. Small footprint. Forced Draft Burner.
According to CB, "The ProFire-Q series burners are designed around efficiency and operational simplicity. This ultra-quiet, compact burner has the high-efficiency and ease of use perfect for almost any commercial application," including cast iron, commercial watertube, firetube, and process heating applications. Listed as key features in their compact model are:
Linkageless system standard for optimal control throughout firing range
DC pulse width modulation allows full blower speed control without the air dampers
Full enclosed air housing featured a hinged cover for easy access to internal components and quiet operation
Sealed combustion eliminates the need for outside air dampers and make-up air units typically required in every boiler room
The design of this burner is characterized by Cleaver-Brooks as a true "plug and play" solution with easy set-up and commissioning to quickly achieve heating needs.
1.4-10.5 MMBTU. 35 to 250 HP. Gas, #2-#6 oil, combination, alt. fuels. Uncontrolled NOx. Forced draft burner. Dual-fuel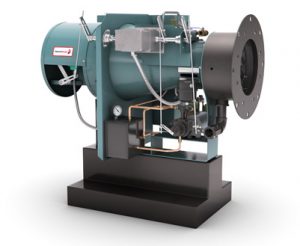 Versatility is the word that comes to mind in examining the capabilities of this model. Built for applications like boilers, heaters, furnaces, kilns and dryers, the ProFire-M is offered in natural gas, propane, combination and alternative fuels. A 14-point cam trim adjustment allows for consistent air-to-fuel ratios, while a backward-curved impeller ensures a proper supply of combustion air even at high-altitudes and various furnace pressures. A hinged combustion head allows for easy access and maintenance.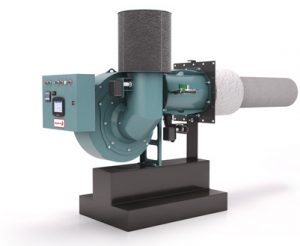 2.5 to 16.0 MMBTU. 60 to 380 HP. Natural gas or propane. Low NOx achieved without FGR. Forced draft burner
For process heating applications like thermal fluid systems and hot oil heating, the MTH Series is designed to provide a trouble free operating life through a fecralloy fiber material combustion element over a stainless steel frame. Pre-mix fuel translates to uniform flame distribution, low CO emissions and high turndown. The MTH Series is capable of under 9ppm NOx emissions without flue gas re-circulation – ideal for use with applications where low emissions are required and FGR is impractical or inaccessible. An efficient airfoil blade design smoothly lifts airflow over the entire blade of the air fan, resulting in less motor horsepower requirements and significant noise reduction.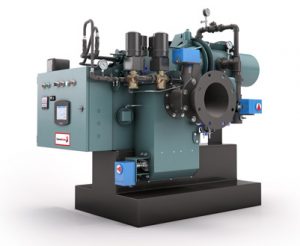 1.5 to 12.5 MMBTU input range. v36 to 300 boiler HP. Gas, #2 oil and combination. Available to <9 ppm NOx. Forced draft burner, dual-fuel
The ProFire-NTH series are "low-CO performing burners designed for cast iron, firebox, firetube, and watertube boilers." The burner operates on natural gas, propane gas, propane/air mix, or a combination of gas/oil fuels, featuring induced flue gas re-circulation, an FGR modulating valve, a rotary air damper with a silencer, and is hinged for easy access to components.
Keep an eye out for next week's post when we turn to industrial burners!