Our first post for November's POM on Exhaust Solutions outlined Cleaver-Brooks' quality materials and manufacturing prowess, as well as Cannepp's track record of attention to detail throughout the entire process – from lead, to quote, and all the way to the end user.
This week, we will delve into product descriptions for Cleaver-Brooks' exhaust solutions . Cannepp – as you know – not only sells these products, but serves as your adviser, expert installer, and guarantor for customer satisfaction and ROI.
Prefabricated Boiler Stacks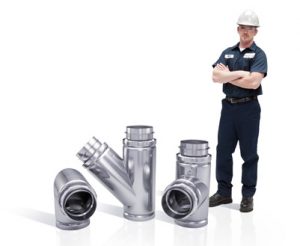 The CBI Boiler Exhaust System
Because every exhaust solution is unique to each progressing project, the sizing and fitting of stacks can become surprisingly complicated. With Cleaver-Brooks' prefabricated stacks, you can eliminate these variables from the equation. Male-to-Female jointing systems the parts from all models to fit onto one another, allowing for unparalleled flexibility and removing the need to various adapters that can be costly for both time and wallet. This flexibility reinforced, both figuratively and literally, by a full range of accessories that include elbows, fitting guides and supports. Laser welded, easily assembled, and UL/ULc listed, these stacks put you on the path to quicker installation, peace of mind, and return-on-investment for going with the best.
Freestanding Stacks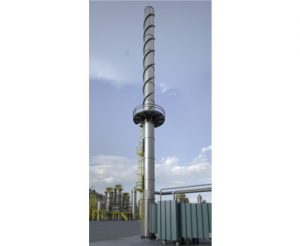 Cleaver-Brooks' Freestanding Stacks
"Cleaver Brooks can provide you with the design and manufacture of freestanding stacks according to American and Canadian standards requirements. Our highly qualified engineering department has diversified experience and knowledge in exhausting and venting stacks." – CB
These cylindrical stacks are factory welded and are available in carbon steel, COR-TEN steel and stainless steel. Moreover, accessories like access doors, platforms, lightning protection, guy-wires, stack drainage, spoilers and anti-vortex equipment are available to the customer. Inner and outer structure options are provided to tailor the product to your requirements. Each stack option offered also complies with ASME, SMACNA, NFPA and ASHRAE.
Model CBS: Single structural shell stack
Model CBS2: Cylindrical double wall stack. Inner structural shell insulation and outer metal jacket.
Model CBS3: Cylindrical double wall stack. Outer structural shell with air space, insulation and steel lining.
Model CBSR: Cylindrical refractory lined freestanding stack. Outer structural shell with refractory lining.
Installation-Ready Stacks for Condensing Boilers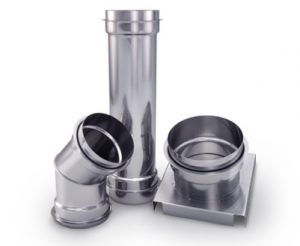 Exhaust materials designed with condensing boilers in mind
The thermal efficiency of condensing boilers can have an incredible positive impact on your daily operations. However, this does affect required tolerances when it comes to venting. There is less natural draft due to reduced heat, and flue gas nearing the dew point leaves you at risk for the effects of corrosive chemicals.
C-B's stacks for condensing boilers feature the same benefits as their non-condensing counterparts, such as male-female slip-type jointing systems and laser welding, and the inner gas-carrying stainless steel shell is UL1738 listed. For special gas vents technical data and parts selection information, click here and download the PDF.
Chimney Liners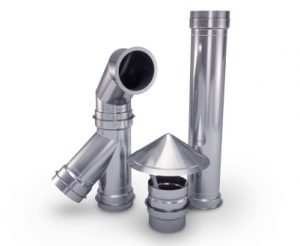 CBI & CBH Chimney Liners
Cleaver-Brooks offers two types of chimney liners, the CBI and CBH.
"CBI and CBH chimney liners are intended for use in masonry chimneys to vent Category I gas and oil fired appliances equipped with draft hoods and appliances intended for use with type B gas vents." -CB
The CBI is constructed using standard 316 or 304 2B stainless steel; the CBH consists of UL1738 stainless steel. The aforementioned laser welding, jointing system, complete engineering and easy set-up are parts of the Cleaver-Brooks commitment you will also find in these products.
Installation-Ready Grease Ducts
Removing smoke or grease-laden vapors in commercial, industrial or institutional systems with an exhaust system can be achieved with Cleaver-Brooks' expert crafted grease ducts.
Whether it's process steam, industrial process, building heat, sterilization, humidification, waste heat recovery hospital and healthcare, power and utilities, refineries and petrochemical, or laundry and dry cleaning, Cleaver-Brooks commitment to outstanding manufacturing, when combined with Cannepp's ability to find and install the right exhaust solution for you, lets you rest assured that your stacks can handle what combustion will not.
Keep an eye out for our upcoming video featuring an exhaust solution installed by Cannepp Sales & Service!